21 September 2009
Luke seems to be making progress at last. For the last few days he has been on a NIPPY which is a small portable ventilator which is a big step forward long term.
Luke had cuddles today, the first time for over a month for which most hes spent drugged out of his brains on morphine, completely asleep. For a tiny baby not to be able to near its mother for such a long time is truly sad - but today we had some smiles!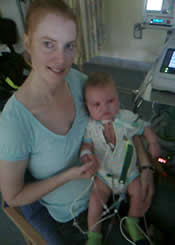 (the NIPPY is the white box on shelf in background)
21 September 2009
Daniel Broom (Lukes Uncle) will be running the Great South Run in Portsmouth on 25th October hoping to raise money for the Paediatric Intensive Care Unit (PICU) at Southampton General Hospital. The Charity is special to him as it saved the life of his nephew, Luke, who was admitted to the unit in June with a congenital diaphragmatic hernia. The condition, which can be fatal, affects 1 in 5,000 babies and is normally diagnosed at or before birth. Luke was only 6 weeks old when he became critically ill and it took all the expertise of the staff on PICU to save his life during emergency surgery. Since then, Luke has had 8 operations, including having his right lung removed, and although his condition has started to improve, he still remains critical, on a ventilator on the PICU ward. With at least one other operation still to come, Daniel and his family remain extremely grateful to the commitment of the PICU staff who are continuing to work hard to support Luke and aid his recovery.
PICU is the regional centre for the South of England, and one of only 9 tertiary care centres in the UK. This means that any child needing intensive care in the South of England would be likely to receive treatment there. As there are only 11 purpose built bed spaces, the unit can become full quite quickly. More than 700 children are admitted each year, many from A and E departments across the region or following major surgery. Children from newborn to 17 years are cared for in the specialist unit. This may be due to massive trauma following a road traffic accident, or other serious illnesses, or as a result of serious heart disease in tiny babies. The unit encourages family centred care by incorporating the family in the care of their child, and providing family accommodation to help the families cope with the trauma of their child being admitted to the unit.
Running such a service requires high standards of care, and this requires frequent investment. The charity, Friends of PICU, aims to support this work by helping to purchase new life saving equipment, as well as toys, baby equipment and in the near future a new ambulance. The average cost of a night on the ward before any medical intervention is £1500, whilst the incubator that Luke first stayed in cost £75 000 so costs are very high! If you would like to support this Charity then please log onto Daniel's web page: http://www.justgiving.com/Daniel-Broom/