3 May 2010
I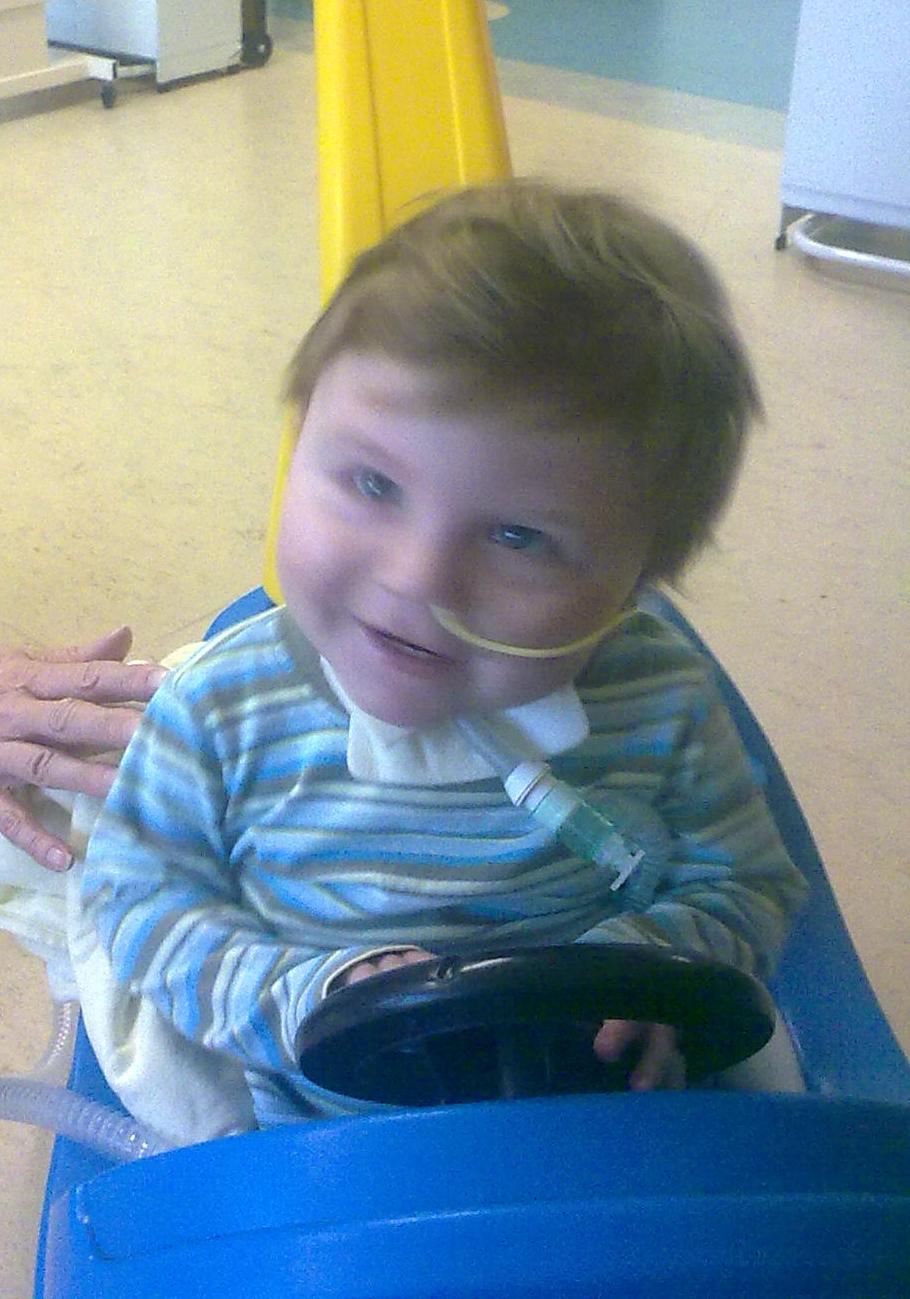 f you ever wondered what Luke got did during the day this has been his routine (written by mummy).
07.00-09.00: Wake up, wash, trache tapes, neb: I normally wake up quite early, but if I wake up earlier than 7 then please encourage me to go back to sleep as I get quite grumpy if I get up too early! Once I*m awake I need a wash, my trache tapes changing and a neb to clear the gremlins off my chest. My bottom can get quite sore so sometimes I need special creams (depending what's prescribed) in the morning, and hydrocortisone cream on my neck. My neck can get very sore if not changed twice daily and I need green ties if my neck looks red. Then I like to sit up in my bed so I can see what*s going on!
09.00: Breakfast (feed followed by bolus): Please sit me in my high chair with my bib on. I like organix banana brekkie and water (or some of my milk) from my beaker. Please encourage me to feed myself, I am quite good with my beaker and like to be involved in my feeding. The SALT lady said I should not be force fed so try to avoid putting the spoon in my mouth if I don*t open it. Recently I have only been taking a couple of spoonfuls before I turn my head away, but please persevere with me. You can give me biscuits etc. to play with too, but mostly I seem to know it's food and avoid putting edible things in my mouth.
09.30-11.00: Play (dry circuit): After a good night*s sleep I should be invigorated so enjoy playing on my mat. I can nearly roll onto my front, but my arm gets stuck at the last bit. I am being encouraged to sit on a box/roll so I put weight on my feet and to lie over a roll with it supporting my chest so I can put weight through my arms. I also need to start to learn to re balance myself side to side and can do this if toys are placed just out of my reach when sitting. I like banging things together, but haven't quite mastered clapping yet.
11.00-12.00: Rest: I do get quite tired and often have a little morning nap otherwise I get grumpy. Head rocking or flopping around is a good indication that I need a nap, preferably back in my bed/on my wet circuit.
12.00: Lunch: Same as breakfast with bolus after feed. I can try some savoury food, but I do have quite a sweet tooth so anything with banana/chocolate should be a good back up.
I can try some of my finger foods as long as I am supervised, but please allow me to explore them myself.
12.30-14.00: Play: Hopefully I will have energy after my rest and can play again. If you have time, the SALT lady has given me some basic makaton signs to try and learn, particularly hello and goodbye. I am very sociable and love interacting with people. If there's 2 people about I love to get out and about in my buggy too.
14.00-15.30: Rest: I get a bit tired mid afternoon and often have another rest.
15.30: ½ bolus feed: I have sometimes been a bit grizzly late afternoon, so the dietician suggested I have half my bolus feed (50ml?) a bit early to take the edge off my hunger. Other reasons for being upset include teething and a dirty nappy. I AM NORMALLY ONLY UNHAPPY FOR A REASON, so if I am upset for prolonged periods it might need further investigation.
15.30-17.00: Dry circuit (play or out and about), neb: Hopefully Mummy and/or Daddy might be here by now (sometimes earlier and Granny and Grandad often come at lunch) and we can go out and about,
17.00-18.30: Tea, bath, trache tapes, ready for bed: One of my family is normally on hand for the bedtime routine. It really needs to start at 5 so I don*t get too tired for my tapes. I really enjoy bathtime, splashing around with my favourite toys (the starfish is my favourite!)
18.30-19.00: Nebulizer/Storytime: A neb before bed and a story with all the animal noises! I like to have my muslin square to pull over my head (mind my expiratory valve!) and my bedtime lullabies if possible. Night, Night!
OVERNIGHT: I normally have nebs 4-6 hourly depending on my secretions. I am also on continuous feed from 7-7. I need my nappy changing a couple of times, especially as my stools are quite runny and if left in a dirty nappy my botty can get very sore!